Types of Polished Concrete
OzGrind offers two main types of polished concrete:
HiPERFLOOR or a Mechanically Polished Concrete
A high end mechanically polished concrete known is HiPERFLOOR- for high end internal use in homes, offices, shops etc. The floor is ground twice to show the aggregate(stone) and this can be done lightly for minimal exposure or more for full exposure, then the floor is grouted to fill in pin holes and small cracks. We then put a densifier down to harden the floors surface by up to 10 times and go over the floor up to 7 times with resin pads to get the desired shine (the concrete itself shines, so it is not an artificial shine  from topical sealer), then the floor receives a penetrating sealer which soaks into the floor to prevent any staining from occurring which leaves the floor looking and feeling like glass. This process has up to 15 steps but is available for indoor concrete only.
.
Grind & Seal
A grind and seal- for the budget end indoor, and all outdoor areas, garages, porches etc.
In this process the floor is ground twice to show the level of desired aggregate (stone) then 2 coats of sealer are applied which sits on the surface, giving the concrete a shiny appearance. This is a 4 step process and available for indoor and outdoor concrete.  For outdoor around pools etc we can add an antislip agent which is like a grit which we can make to whatever concentration you desire depending on how non-slip you want the surface to be.
It is much easier to pick the difference between the types of polished concrete with the naked eye but photos can give you an indication.  Also keep in mind that with all topical sealers over time they will wear and may need to be re-coated, this is due to small rocks and dirt etc being walked over the floor which can act like sand paper. However the Hiperfloor process has no topical sealer to wear away so will withstand the test of time.
Levels of 'exposure'
The depth of the grind, or how much of the top of the concrete slab is removed will determine how much aggregate (or stone) is exposed. Below are some examples of polished concrete with different levels of exposure: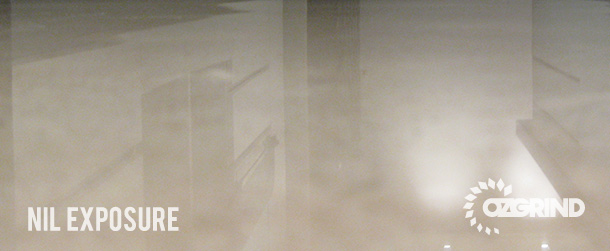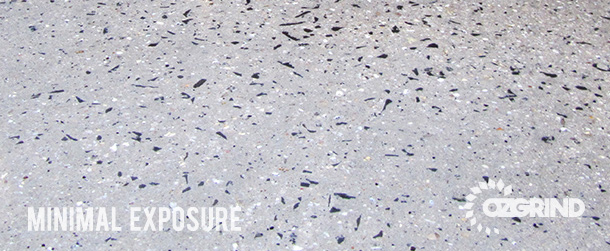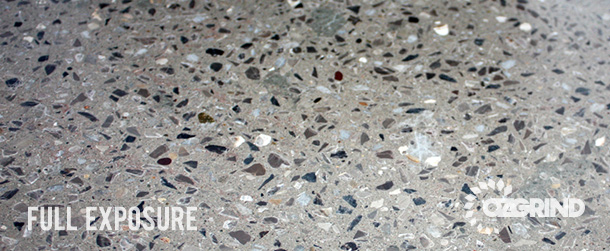 Contact Us
Topical Coatings

At OzGrind we offer a range of concrete coatings to suit many purposes. Depending on the amount of traffic, and the location of the area to cover, one of the following systems may be used to create the look you desire.
Indoor and outdoor sealers
Epoxy coatings
Polyurethane Sealers
Acrylic Sealers.
Surface Hardeners
Surface Preparation

OzGrind have the latest dust free floor preparation equipment from Husqvarna.
We offer many surface preparation options and these services include:
Surface Preparation/Grinding
Concrete leveling (approximately 8-10mm)
Glue and Coating Removal
Repair of rain damaged concrete